In this article we describe some of the main types of commercial and work vessels at sea
Most of these vessels are identifiable on Shipfix maps
---
Dry cargo vessels
Bulk Carriers
Bulk carriers are the giant dump trucks of the sea, pure bulk carriers are typically designed to transport coal, various ores, grains, etc in bulk. The larger vessels such as capesize or panamax vessels are typically "gearless" because they often repeat the same laden voyages from loading and discharge ports that are equipped with loading/discharge equipment such as cranes and conveyors.
General Cargo
General cargo vessels are the workhorses of the sea, they can carry dry bulk and breakbulk cargoes in different holds. These ships tend to be more polyvalent, they are often chartered for "tramp" business which involves one-off voyages such as project cargoes or seasonal trades. Many General Cargo vessels are "geared" which means they can load and discharge their cargo autonomously on almost any berth globally without the intervention of any specialised stevedoring equipment in port. General cargo ships are often designed with a box-type hold with a flat reinforced bottom to transport heavy breakbulk cargoes such as Steel products or concrete slabs.
Shortsea Vessels
Short-sea vessels are smaller and designed for coastal trade and sometime major inland waterways. Their carrying capacity is typically less than 10,000 deadweight tons.
---
Tankers
Crude tankers (dirty tankers)
Crude tankers move large quantities of unrefined crude oil from its point of extraction or storage to refineries. The largest crude tankers can be up to 400,000 deadweight tons.
Product & chemical tankers (clean tankers)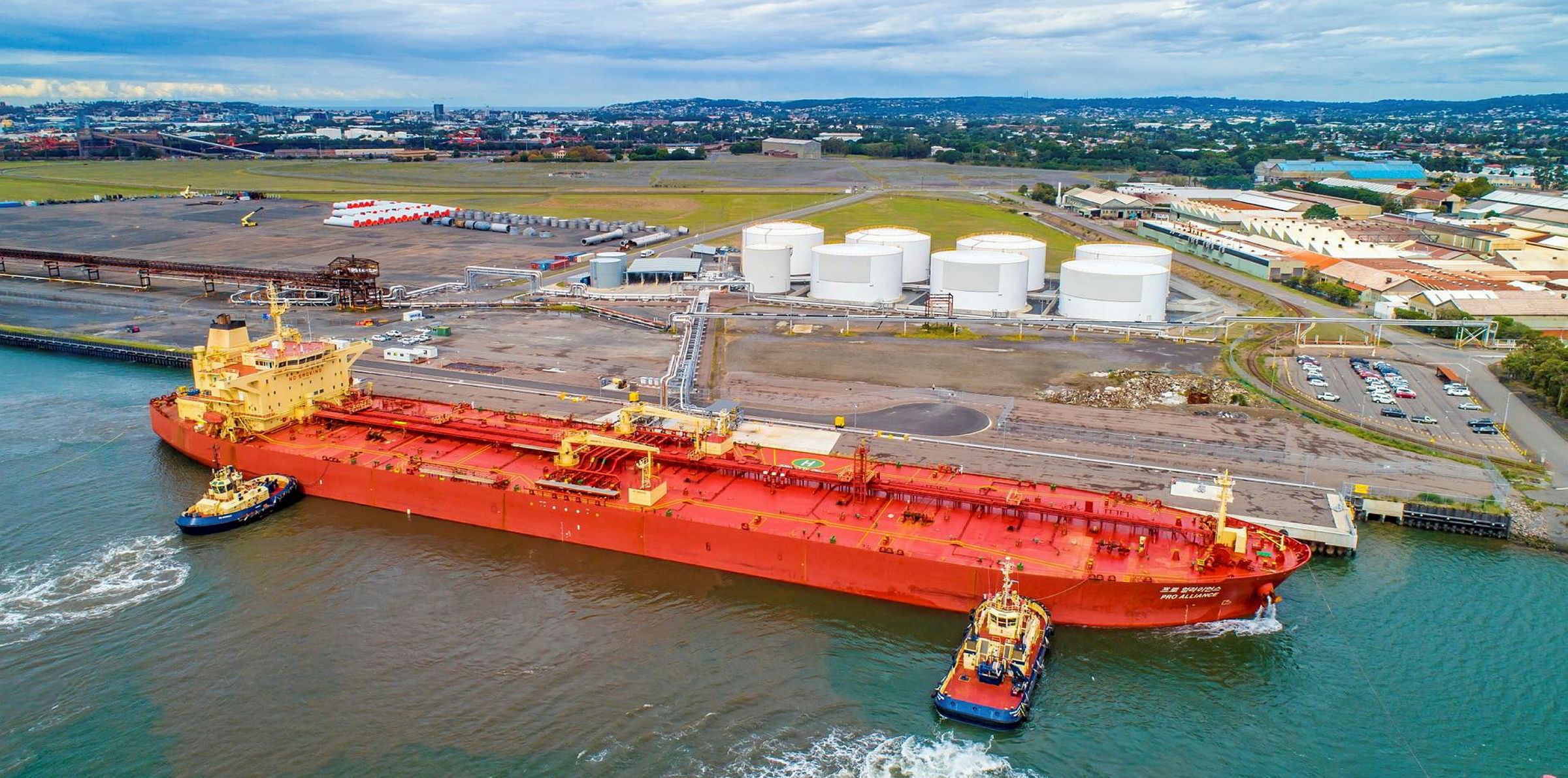 Product Tankers are used to carry refined oil (various grades) to the point near the engrossing market. The tanks are sometimes coated with epoxy or stainless steel to protect the cargo and facilitate tank cleaning between cargoes. Some specialised clean tankers also transport specialised chemical such as alcohol or juices.
Gas Carrier (LNG/LPG)

A gas carrier (or gas tanker) is a ship designed to transport LPG, LNG, CNG or liquefied chemical gases in bulk. The cargo is compressed at extremely low temperatures to allow for significant transport volumes.
---
Specialised Vessels
Heavy lift vessel
MPP/Heavy lift vessels are designed to load, discharge and transport heavy and oversized breakbulk and project cargo autonomously. the deck is usually quite low and flush to facilitate the transport of oversized cargo on deck. The cranes usually feature high lifting capacity are designed to be able to work in tandem.
RoRo vessel Roll-on/Roll-off
Roll-on/roll-off (RORO or ro-ro) ships are cargo ships designed to carry wheeled cargo, such as cars, trucks, semi-trailer trucks, buses, trailers, and railroad cars, that are driven on and off the ship on their own wheels or heavy project cargo using a platform vehicle, such as a self-propelled modular transporter. New automobiles that are transported by ship are often moved on a large type of RORO called a pure car carrier (PCC) or pure car/truck carrier (PCTC). Elsewhere in the shipping industry, cargo is normally measured by the metric tonne, but RORO cargo is typically measured in lanes in metres (LIMs). This is calculated by multiplying the cargo length in metres by the number of decks and by its width in lanes (lane width differs from vessel to vessel, and there are several industry standards). On PCCs, cargo capacity is often measured in RT or RT43 units or in car-equivalent units (CEU).
Log carrier
Usually a stanchion/log fitted general cargo vessel or a purposely designed log-ship.. These vessels are designed to transport logs above and under deck (where possible)
Cement Carrier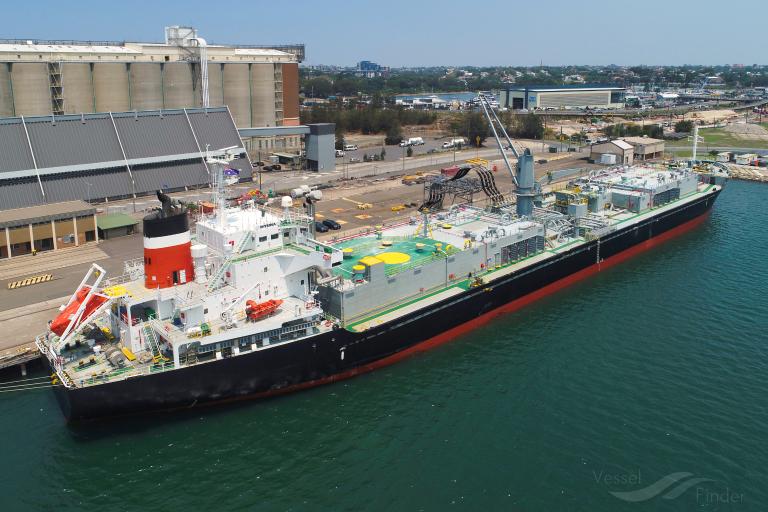 Specialised cement-carrying ships are used in cases where the cement factory is located near waterways. The load capacities of such ships may reach 5,000 tons. Transportation by ship is also used for cement loaded in containers. They may be equipped with horizontal or vertical tanks, and the cement feed from the tanks may be pneumatic (most common) or by gravity.
Asphalt carrier / bitumen carrier
Asphalt (also commonly referred to as bitumen) is usually stored at an elevated temperature during transportation, which results in the design of asphalt carriers being quite different from conventional oil carriers
Floating Production Storage and Offloading unit ("FPSO")
An FPSO vessel is designed to receive hydrocarbons produced by itself or from nearby platforms or subsea template, process them, and store oil until it can be offloaded onto a tanker or, less frequently, transported through a pipeline.
Floating Storage and Offloading unit ("FSO")
A Floating Storage and Offloading unit (FSO) is essentially a simplified FPSO, without the capability for oil or gas processing. Most FSOs are converted single hull supertankers.
Floating Storage Regasification Unit (FSRU)
A Floating Storage Regasification Unit (FSRU) is a vital component required while transiting and transferring Liquefied Natural Gas (LNG) through the oceanic channels. Therefore, FSRU can be termed as a special type of ship used for LNG transfer.
Livestock carrier
A livestock carrier is a large ship used in the live export of sheep, cattle and goats. They are specially built new or converted from container ships.
Barge
A barge is a flat-bottomed ship, built mainly for coastal and inland transport of heavy goods. Some barges are not self-propelled and must be towed or pushed by tugs and/or towboats, canal barges or towed
Reefer ships
A reefer ship is a refrigerated cargo ship, typically used to transport perishable commodities which require temperature-controlled transportation, such as fruit, meat, fish, vegetables, dairy products and other foods.
Semi-Submersible heavy lift vessel (float-on/float-off)
Semi-submersible heavy-lift ships have a long and low well deck between a forward pilot house and an aft machinery space. Its large ballast tanks can be flooded to lower the well deck below the water's surface, allowing oil rigs, other vessels, or other oversized floating cargo to be moved into position for loading. The tanks are then pumped out, and the well deck rises to shoulder the load. To balance the cargo, the various tanks can be pumped unevenly.
Crane Ships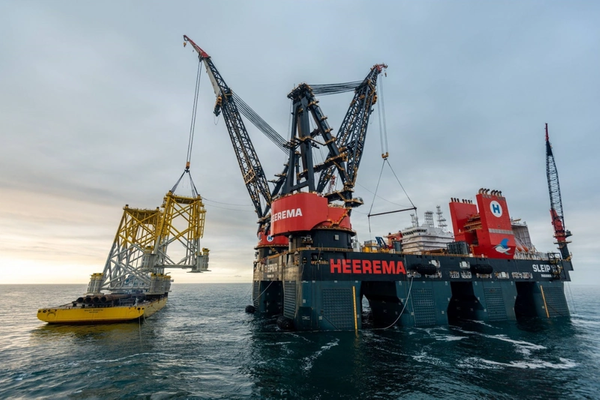 These self-propelled work platforms are designed to perform heavy-lifting work on large engineering projects but rarely transport any cargo.
Offshore support Vessel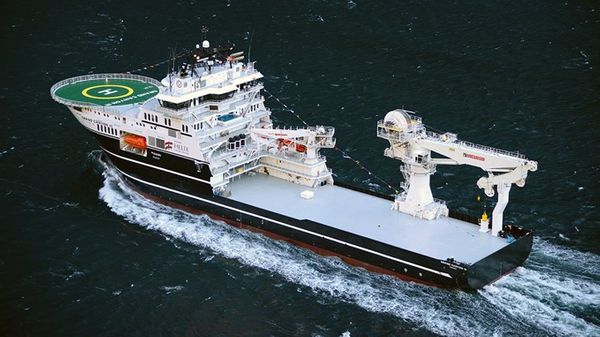 Offshore Support Vessels. Certain offshore vessels provide the necessary manpower and technical reinforcement required so that the operational processes in the high seas continue smoothly and without any undesired interruptions.
Tugs
A tugboat or tug is a compact, powerful vessel that manoeuvres other vessels at port by pushing or pulling them, with direct contact or a tow line. Most often tugs are attached to a specific port or terminal but larger offshore tugs are also used to tow vessels that have lost effective power or control at sea back to the nearest practical port. Offshore tugs have more power, a greater range and are designed to cope with adverse weather conditions at sea.
Dredger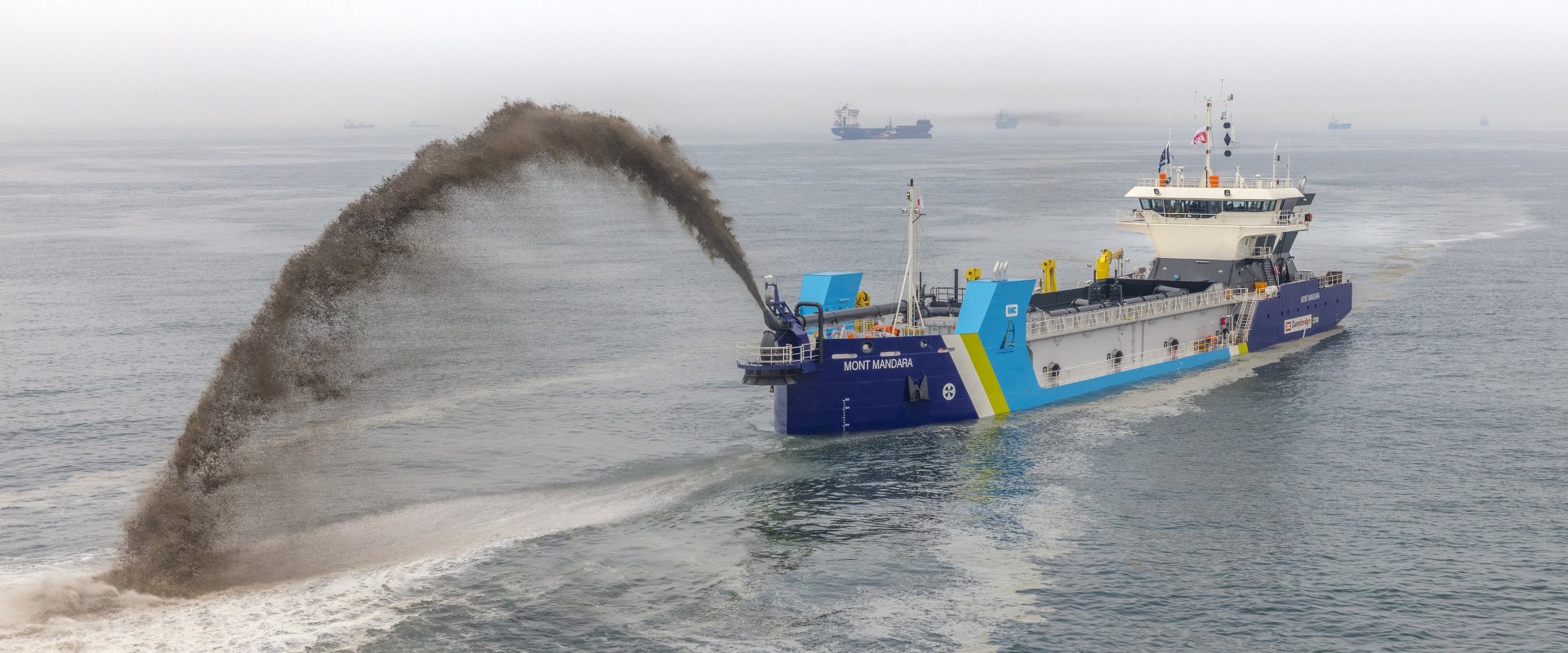 A dredger is a specialised work vessel fitted that is used to increase the size and draft of harbours, rivers, and canals and shipping lanes by "digging" into the bottom to make it deeper.
Ice-breaker
Ice breaking vessels are specially designed to move and navigate through ice-covered water and are used to make way for other marine vessels. They have a spoon-shaped bow portion to break the ice on its way by applying the vessel's sheer weight onto the ice crust as it moves forward
Cable-layer
deep-sea vessel designed and used to lay underwater cables for telecommunications, electric power transmission, or other purposes