Update the commercial status of vessels to keep your team informed of changes
By updating the 'Commercial Status' of a vessel on your tonnage screen you and your colleagues can have a revised, up-to-date view of all vessel positions that are commercially available.
NOTE: The Commercial Status is related to the vessel's 'opening position/date'.
Therefore, if you change the commercial status on a vessel on the tonnage screen, the next time she is advertised to you on a different, new open position/dates, the commercial status will be reset accordingly, i.e. it will NOT remain on the vessel in perpetuity, only until she's advertised again on a different/new opening position/dates.
The following steps show how to update the 'commercial status' of a vessel:
a. Click on the 'Update' icon next to a tonnage position or use the shortcut 'shift+mouse click' on the cell you want to update

b. A white 'edit Tonnage' box appears, fill in the 'commercial status' field and click on update in the bottom right corner of the white box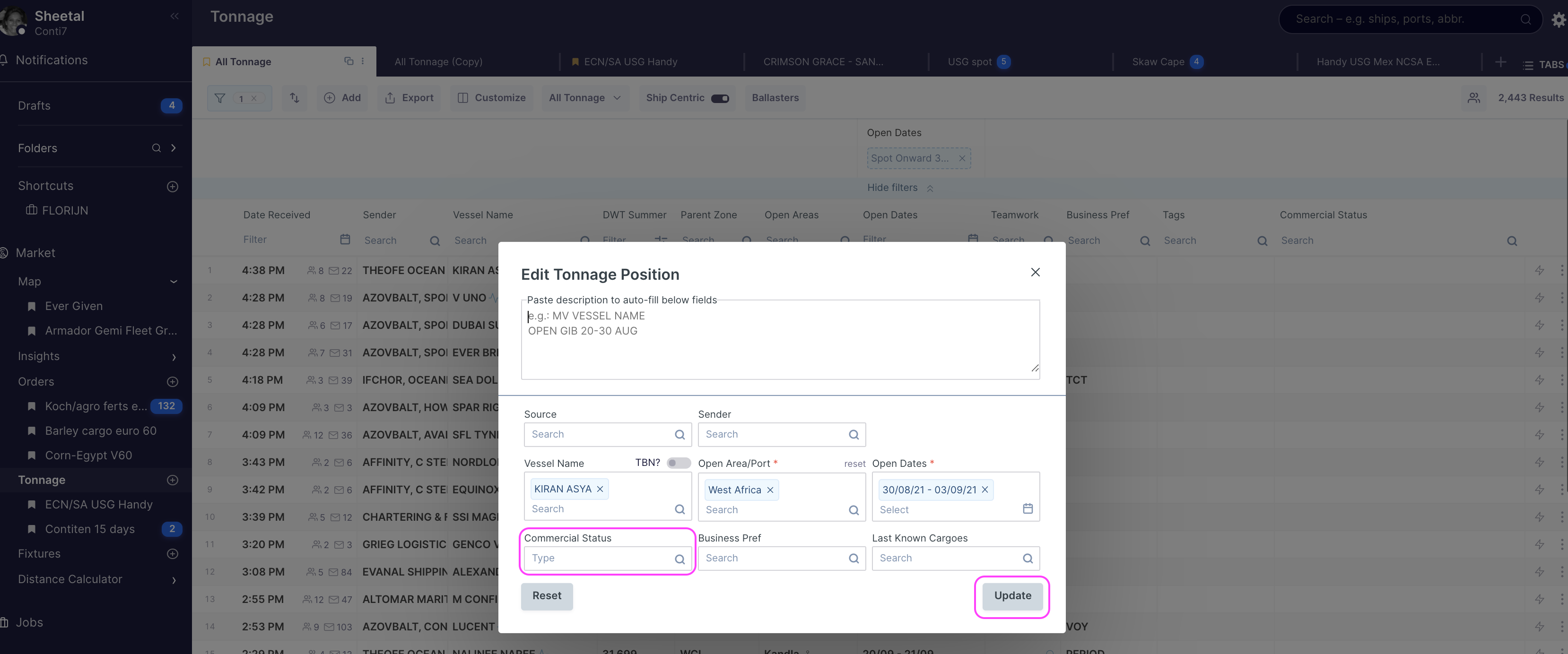 Once you have updated the commercial status you can filter and search for vessel positions based on their commercial status, as shown in the following video,
The following is a guide to the 'commercial status' column, showing the different available status' updates that can be applied and the assigned colour code for each status:
| | |
| --- | --- |
| Commercial Status | Colour Code |
| Off Market /Off Mkt | Green |
| Failed | Green |
| On hold | Blue |
| BackStopped/BSTOP | Blue |
| SubSale | Blue |
| On Subs / Subs | Amber |
| Fixed | Red |
| Withdrawn | Red |
| No Status | White |