In the Account section you can setup or change elements such as your avatar, username, password, inboxes, setup 2FA, etc.
The first Tab in the Settings is Account. It consists of:
My Profile
Change your picture that will be visible in various areas of the platform

Edit your Username
Edit your First Name
Edit your Last Name
2. Password
Change your password to something more memorable and secure for you - not necessary if you've signed in with Microsoft or Google Single Sign On (SS0)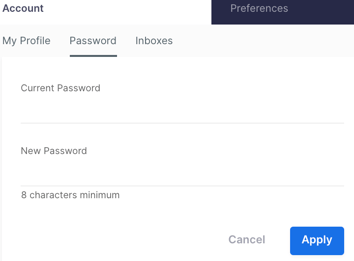 3. Security - 2FA
Two-factor authentication is an enhanced security measure. Once enabled, you'll be required to give two types of identification when you log into Shipfix.
NOTE: If you've used Microsoft or Google Single Sign On (SS0), you may not need to add this as it may already be inplace through your internal policies.




4. Inboxes
Shows all inboxes that you have connected to the platform and you can decide which ones you want active i.e. whether you want to have emails from the selected inbox on Shipfix, or not.

Which inboxes are 'Shared' with other members of your organisation and which not.
Add a new Inbox by selecting the appropriate option.

Select a different colour for each of the inboxes to differentiate your inboxes so that you can easily identify which inbox an email originates from.
You can choose an inbox to make it your Primary Inbox. When composing a new email this ensures in the 'From' section the email address from which to automatically from this inbox address. However, you are still able to override this and pick a different email address to send from